Number of hours

Lectures

-

Projects

-

Tutorials

8.0

Internship

-

Laboratory works

-

Written tests

-
Goal(s)
This course is designed to help students do the following:
develop intercultural awareness and acquire better understanding of the international professional context
look for an internship and develop their professional project with further reflection on competences
Responsible(s)
Sophie BELANGER
Content(s)
This course is divided into 2 parts:
I. 2 sessions dealing with intercultural awareness where students explore cultural differences in the professional context through guided discussions, the study of a model and team presentations of specific cultures.
II. 2 sessions focussing on the 2nd year internship search where students are asked to reflect on their skills and their professional project through guided discussions and activities. Students are asked to produce CV and cover letter for a specific internship offer.
Prerequisites
None
Test
Evaluation non rattrapable (EN) uniquement / EN assessment:
Présentation orale (groupe) et rapport réflexif individuel sur la culture étrangère présentée / Oral presentation (group) and individual written report on the presented foreign culture.
Jalon 2 FSA rempli au 2 mai / 2nd benchmark filled in on May 2nd
-Validation : validé ou non validé (pas de note) / No grade: Pass or Fail
EN 100%
Additional Information
Course ID : 4EM3MAP6
Course language(s):

You can find this course among all other courses.
Bibliography
Les ressources pédagogiques du Module d'accompagnement professionnel sont disponibles sur CHAMILO.
All pedagogical ressources are available on CHAMILO.
French State controlled diploma conferring a Master's degree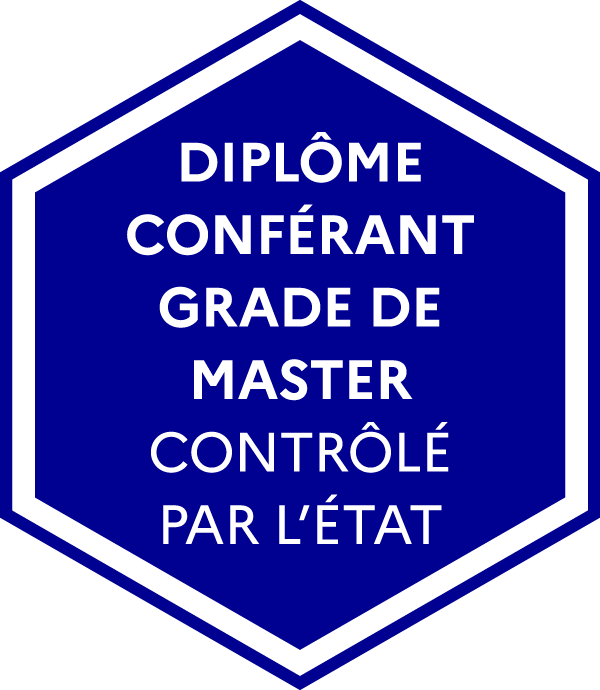 Version française