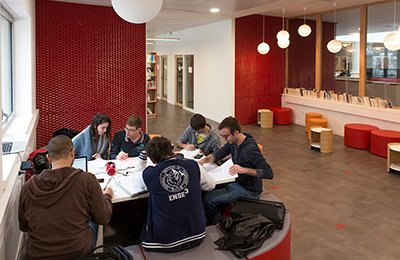 Maintaining an attractive academic environment for engineering students is a priority for Ense³. By implementing nuanced strategies to diversify the academic curriculum, the school offers an engaging platform for engineering students to foster the acquisition of knowledge, strengthen personal and group work, and integrate languages or science and business management to the scientific courses.


Our academic curriculum has four primary objectives
Provide context for classroom courses in order to boost engineering students' motivation.
Develop and strengthen a desire for innovation and research for our engineering students.
Expand teaching modes and learning strategies to develop a more engaging academic environment in order to advance the acquisition of knowledge.
More effectively evaluate the achievement/knowledge of engineering students in their training courses as well as consolidate and enhance their professional and intercultural experiences. Some of the teaching subjects are taught in English thanks to the consolidation of current courses and international master's program (Hydraulic and Civil Engineering, Electrical Engineering for Smart Grid )

Unique Technological Resources
The training school relies on several key technological resources
specialized practical work rooms
shared technology platforms for teaching and research with laboratory partners
3,000 m² of educational platforms
35% of lessons on average are devoted to projects.
Platform Prédis
: for topics related to Energy
Platform Mechanic Water and Environment
: for topics related to mechanic and hydraulics